WriteFreely Beta
Since late 2018, we've been quietly working away on a large open source software project. It's called WriteFreely, and it powers the entire Write.as platform. Today we're excited to release version 0.12, and launch some brand new services around our software.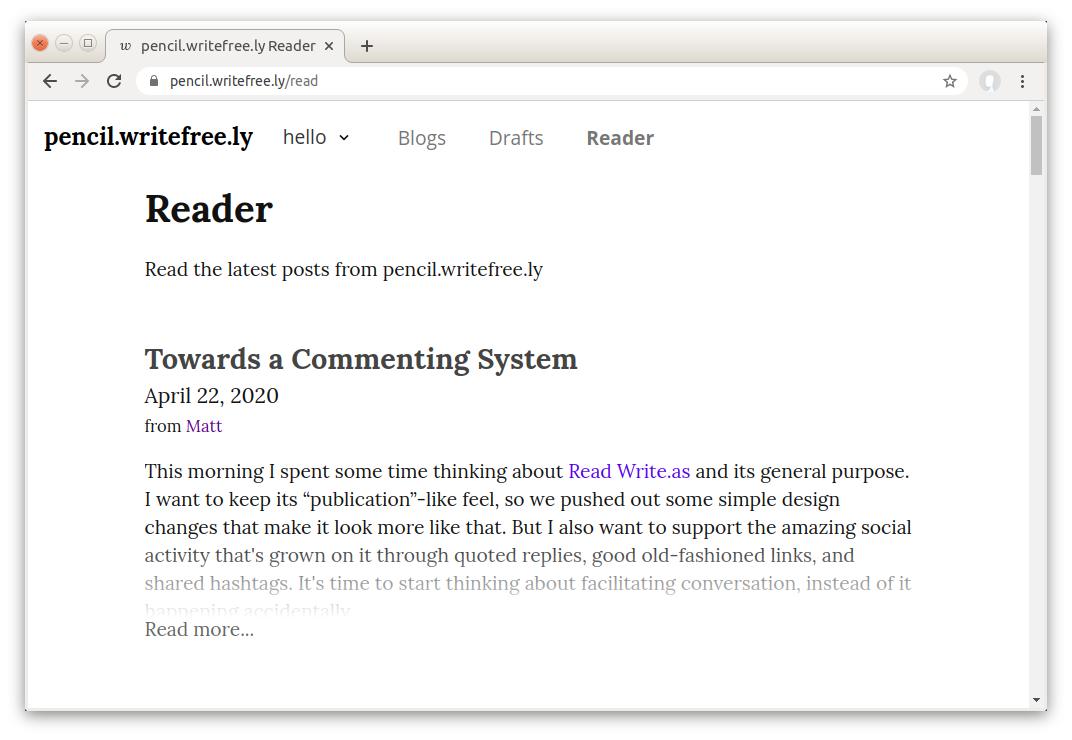 The original idea for our open source writing platform has grown beyond anything we imagined in the months since releasing WriteFreely. At first, we pictured simple little blogs that anyone could host themselves. They'd connect with the rest of the web thanks to the ActivityPub protocol, and give people the same distraction-free writing experience they love on Write.as. But after releasing the code behind Write.as, the project has taken on a life of its own and grown to fit some incredible new uses.
We've also turned our focus from individual writers to the administrators running these sites (or "instances"). We're still talking to writers, of course, but now these writers are also building entire communities. They lead offline writing groups and need a gathering space online. They run writing programs at their library and need a digital space for their patrons. They maintain open source projects and need a permanent writing space next to their chat and mailing lists. We support all of these use cases with WriteFreely, from public libraries in Connecticut to open source developers like the Linux kernel team — and this latest release serves them even better.
With WriteFreely v0.12, we've settled in as a platform for communities. We now support OAuth 2.0 providers like Slack, GitLab, and Write.as, making it easy for you to bring your existing organization onto our platform. Our new admin dashboard simplifies configuration, inviting users, and staying up-to-date with WriteFreely. With the help of our community, we've also improved automatic SSL certificates and resource use — and much more. You can read all of our updates in our latest blog post.
Finally, we're offering brand new services for WriteFreely, in addition to our hosted plans: support and custom development.
We want to help organizations and institutions implement WriteFreely — whether it's companies writing privately, researchers sharing knowledge, or public libraries giving young writers a fun tool to use. Today, we're happy to host these spaces on Write.as — and now, we're ready to help you self-host them. With years of knowledge from running the software ourselves, we can quickly guide you to the best ways to utilize WriteFreely. For responsive, guaranteed access to our engineers, you can get in touch about an ongoing support plan.
Beyond our hands-on support, we can also prioritize features that are most important to you. We work with institutions to ensure WriteFreely meets your needs, while benefiting the community and sticking to our project goals. All work is designed and developed by the people who know the platform best, and then merged into upstream so everyone can benefit. Thus far, we've developed features like private communities thanks to the government agencies we've collaborated with. If you're interested in advancing privacy-focused free software, please get in touch about your project.
This release marks a big step for us — becoming a full community platform for writing, and accommodating our growing free software with a sustainable business model behind it. Over the rest of the year, you can look for more large updates to the platform, as well as new choices in hosting providers as we work with companies to spread WriteFreely. We can't wait for you to see what's next.
---
You can subscribe to our platform updates via email below, and get new WriteFreely releases over on the WriteFreely blog.