GTD Journey: Moving from Nirvana to Microsoft To Do
After several false starts the company I work for is finally migrating to Microsoft 🥳. No more sync issues between Google Calendar and Outlook for me (yay!).
I remember taking a quick look at Microsoft To Do last year and liked its simplicity, but because I only had one account I thought it was cumbersome to deal with personal and work stuff all together in one app. One of the reasons I liked Nirvana was the global area filter, so I could switch from personal to work mode, and keep a minimal number of context tags that were shared between personal/work .
Now I have 2 Microsoft accounts so things can be organized separatedly. I can switch from one to the other using the Microsoft To Do desktop app, both on my personal and work computers. I also have 2 mobile phones, one linked to my personal account and the other linked to my work account.
The 2 setups are similar, I'll get into more detail about my personal one.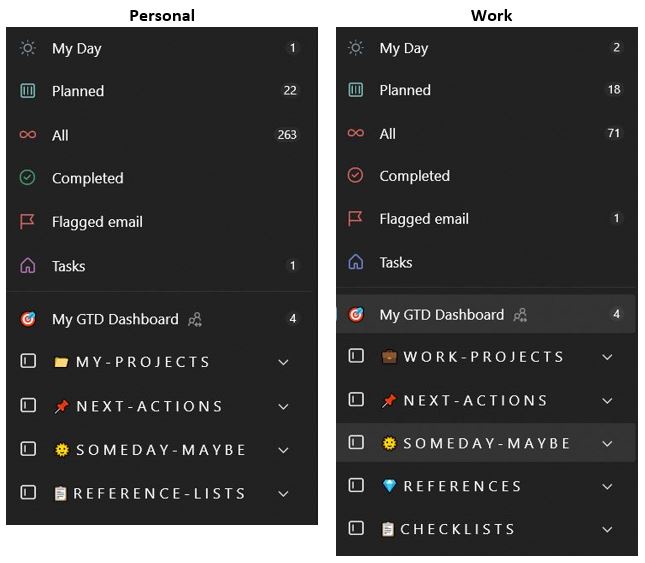 Setting it up
First, I read the Official GTD Guide for Microsoft To Do to figure out the best way to set up projects and next actions. As I wrote before I am letting go of the need to have in-built links betweens next actions and projects, so my personal setup looks like this:
Groups of Lists:
📁MY-PROJECTS: I separate them between "Active Projects" and "Projects on Hold". I also have a list for my recurring GTD reviews and My Routines.
📌NEXT-ACTIONS: each list is a different context, classic GTD. I have a "FOR LATER" list for actions that I don't want to engage just yet, but soon (next week, maybe). It's a middle ground parking lot between Someday-Maybe and Next.
🌞SOMEDAY-MAYBE: Lists to group different topics.
📋REFERENCES-LISTS: various lists that are non actionable items.
Other Lists:
🎯My GTD Dashboard: This list is a quick reference link to documents that are outside the task manager, like my dashboard spreasheet (used for planning), my system overview (a description of my system) and master project lists. These master project lists are long time records of my projects that I update once a month or so.
Using hashtags to identify Projects
In MS To Do we can use hashtags as a way to search similar items. So for example, in my projects list I have a keyword to identify that project and so I can use that same hashtag on my next actions. Clicking on a hashtag will show all related items with it.
It is a loose way of linking projects to next actions and if have a good next action description, I wouldn't even need the hashtag, because I could just search "car insurance" and find what I'm looking for. But I like having the hashtags, specially for bigger projects.
Sharing Lists
I shared some lists between my personal and work accounts so that if I update one the chages will be reflected in both accounts:
My GTD Dashboard
GTD Reviews
Checklists
Vacations dates
Travel – Shared lists
Day to Day Use
There are 2 features in MS To Do that I'm using daily: My Day and Flagged emails.
My Day
In the mornings I have a recurring daily task to "nudge" me to start my day choosing what to focus on. I've tried having it on my calendar as a recurring event but over time it gets stale. It's a quirk I have, I am more likely to act on something if I am able to "check-off" things as done.
So I'll add whatever I decide to work on into the built-in My Day list in MS To Do. The interesting thing about this list is that it resets everyday, so it becomes a daily exercise for me to reflect and plan what I want to focus on.
Flagged emails
Another feature I'm enjoying is sending actionable email items to MS To Do from my email inbox. It's an option that can be turned on/off.
If turned on, the messages in Outlook that are flagged will show up on the "Flagged email" smart list on MS To Do. From there, I'll process it and assign a next action context. In Outlook I will archive the email, since there will be a link in MS To Do to open the original email. If it's an email I want to have quick reference to, I move it to my @Action Support folder in Outlook.
It seems that sending actionable emails to MS To Do makes me spend less time in my email Inbox. I'm finding it better to have "actionables" all in one place. I used to have an "Action" folder in my email and sometimes things got forgotten in there.
So far…
… I've been enjoying the experience! I never realized how important visuals are to me. I absolutely love the MS To Do interface and the way I can customize it with emojis and colors/backgrounds. It's one of those things that make me more engaged with my lists.
MS To Do is simple to use, it's beautiful, it integrates with my calendars and work environment, so it seems like a perfect fit for me now.
Update June 2023
I've written an update to this setup, check it out here.
#Productivity #apps #MSTodo #GTD
Thoughts? Discuss... if you have a Write.as account or Reply by email
---
By Noisy Deadlines
Minimalist in progress, nerdy, introvert, skeptic. I don't leave without my e-reader.